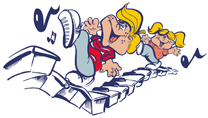 Melodyway Music Center
Melodyway Policies:
We are a year-round Piano Keyboard Music Center.
Each Academic School Year has 46 weeks of lessons and 2 Recitals for a total of 48. The annual tuition is broken into 12 equal monthly payments for your convenience. Most months you will receive 4 lessons/recital, some months there will be 3 or 5, but tuition will remain the same each month. You are not charged for lessons on the weeks we are closed. Students can begin lessons at any time during the year and tuition will be pro-rated.
Late Fees: If paid 8 days after the 1st of the month, a late fee of $5 will be added weekly until the balance is paid.
Registration Fee: A non-refundable fee is required at the time of regisration.
Missed Classes: Tuitions are not pro-rated for missed classes. You have reserved a set time for lessons each week in this studio. If you absolutely cannot attend your lesson, you are allowed up to 4 make-ups per year, but there are no refunds for missed lessons, even with advanced notice. Private lesson Make-ups are only scheduled in a cancellation created by another student's absence. There is no guarantee that a private make-up time will be available when you want one.

Weather: If public school is closed due to bad weather, we will also be closed. Every attempt will be made to make up missed classes. If public school is operating on a delayed schedule, we will be open and classes will run on their regular schedule.
Credits: Tuition Payments are non-refundable. NO Refunds, NO Returns, NO Exceptions.
Stopping Lessons: 30 days notice is required to stop lessons. Complete the Melodyway Withdrawal Form and schedule any outstanding make-ups you can fit in your last month of lessons. Any unused make-ups will be forfeited after withdrawal. If, for any reason, the student wishes to quit the course before completion, the student is required to pay through the end of the 30 day period in which the student terminates.
Insufficient Funds: The NSF charge is $35 for any returned check or electronic funds. If payment is not made and the account is turned over to colections or small claims court you agree to pay any and all costs associated with collecting this debt.