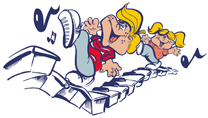 Melodyway Music
Melodyway Policies:
We are a year-round Piano Keyboard Music Center.
Each Academic School Year has 46 weeks of lessons and 2 Recitals for a total of 48 sessions. The annual tuition is broken into 12 equal monthly payments for your convenience. Most months you will receive 4 sessions, but some months there will be 3 or 5. Tuition will remain the same each month. Students can begin lessons at any time during and tuition will be pro-rated. Please see our calendar for holiday closure dates.
Registration Fee: A non-refundable Registration Fee of $60 and first and last month's tuition are due at time of registration. Registration fee includes one starter music book and one music bag. Music and materials are not included in tuition.
Late Fees: Payment is due at the first lesson of each month. If you miss your first lesson or you pay late, a $25 late fee will be added to the amount due.
Missed Classes: You have reserved a set time for lessons each week in this studio. We do NOT offer make-up sessions for missed classes. Tuitions are not pro-rated for missed classes.
Weather: If public school is closed due to bad weather, we will also be closed. Every attempt will be made to make up missed classes. If public school is operating on a delayed schedule, we will be open and classes will run on their regular schedule.
Credits: Tuition Payments are non-refundable. NO Refunds, NO Returns, NO Exceptions.
Stopping Lessons: 30 days notice is required to stop lessons. Complete the Melodyway Withdrawal Form.
Insufficient Funds: The NSF charge is $35 for any returned check. If payment is not made and the account is turned over to collections or small claims court, you agree to pay any and all costs associated with collecting this debt.