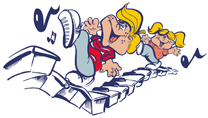 Melodyway Music
Melodyway Keyboard Kids :: Group Keyboard Piano Classes
Learn to play classical, folk and pop music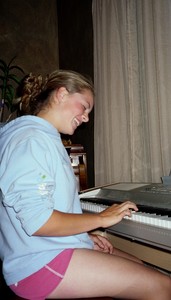 Ages 7 - Adult
Explore sound and color on piano keyboards
Acquire note reading knowledge on the grand staff
Experience fun theory games
Learn chord symbols to improvise or play by ear
Melodyway Keyboard Piano Method for Beginners
Our method consists of three instruction books and two supplementary songbooks, which are designed to introduce the student to the basics of keyboard playing and reading music. These books are suitable for all types of keyboards. The instruction and supplementary songbooks are co-ordinated to provide the student with an extensive repertoire of well-known children's songs. All the songs have been carefully graded into an easy-to-follow, lesson-by-lesson format, which assumes no prior knowledge of music or the keyboard by the student.
Melodyway Keyboard Piano Method Book 1 incorporates very easy arrangements involving five notes on the treble staff (C,D,E,F,G) played with the left hand accompaniment (one-finger and multi-fingered cords). It introduces the student to 4/4 and 3/4 time, incorporating quarter, half and whole notes and their equivalent rests. Only the white keys are used. The student is taught how to read music, and introduced to basic terms such as bar-lines, repeat signs and lead-in notes. A suggestion for a voice and rhythm selection is given with each song as a guide to help the student get the best possible sound out of the keyboard.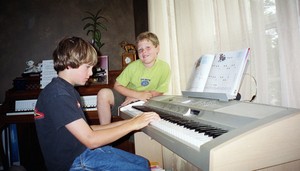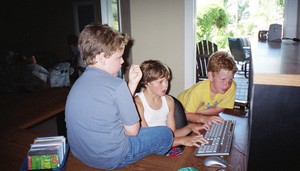 Information about Electronic Keyboards
Although there are different makes of keyboard available, they all have the following features in common:
Melody Keys :: The melody keys are used to play the tune of the song. Use your right hand.
Chord Keys :: The chord keys are used to play along with the melody. They make the song sound full. The left hand is used for these.
Voices :: Keyboards offer a wide variety of instrument sounds. The instrument sound you choose is called a voice or tone. Before you play a song, you get to choose a voice/tone that you like. For some songs, you may wish to have a violin sound, for others you may prefer a trumpet, or a combination of several instruments.
Rhythm Section :: The rhythm controls provide background drum beats. These drum rhythms can be changed to the kind of song you are playing. For example, in some songs you want a rock and roll rhythm, in others you may want a waltz or a samba.
Synchro :: These controls allow you to stop and start the drums, bass and chords.
Auto Chords :: These controls can provide chords and bass notes to play along with the melody.